"The atmosphere generated by Black Diamond Express is incredible!" - Edinburgh Festival Journal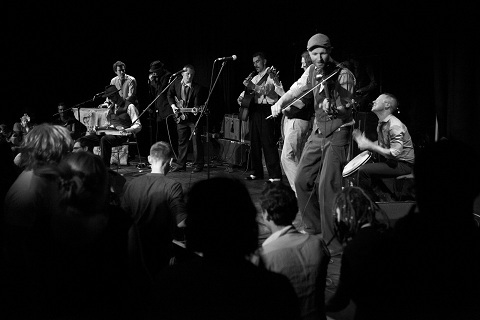 Grainne Duffy Band - a "powerhouse of soul and inspiration mixed with desire and passion"
Save
Example Video
(Black Diamond Express)
(Grainne Duffy)
Profile
Black Diamond Express has been building a reputation as one of the most energetic, dynamic and impressive bands on Scotland's live circuit, playing an intoxicating fusion of blues, folk, rock and roll and traditional Celtic music,. The band was awarded funding by Creative Scotland to assist them in touring across Canada, culminating in an appearance at Toronto's NxNE (North By Northeast), the only Scottish band appearing on the bill.
Formed in 2007 the BDE has garnered praise on the back of an extensive catalogue of original new music, stirred with a large measure of roots and blues. Described by The List as an 8-piece soaked in poetry, myth and bourbon, the band somehow stays true to both Robert Johnson and The Sex Pistols, armed with bellowing sermons and a swaggering, suited performance equally worthy of The Spiegel Tent or Glastonbury.

Their synergy and on stage presence ensure that everyone - both band and audience - enjoy themselves. These factors made the unorthodox decision to release a live first album a remarkably easy one, even though the process was more challenging than traditional routes. The band was nominated for a Scottish BAFTA for their work on the short film A Zombie Musical. In another outing members were closely involved with a flourishing educational project The Tinderbox Orchestra, hosting workshops, recording, and performing for the Dalai Lama on his State visit.

As well as the launch of their long-awaited debut album at The Voodoo Rooms in Edinburgh, the band opened supporting American giants The Mavericks and legendary group The Magic Band. This was followed by a whistle-stop round of national tour datesincluding appearances at Midsummer Music Festival, Focus Wales, and an epic set to close the main stage at Insider Festival. Finally rounding off with that triumphant tour of Canada, the band returned home to host another sell-out run at the Edinburgh International Festival as part of the Made in Scotland Showcase. The band recorded the first of four new studio EP's, released in 2015, entitled The Year of The Snake.
---
Gráinne Duffy is an Irish singer-songwriter and guitarist from Castleblayney, Co. Monaghan, Ireland. Previous to her solo career she obtained a degree in music at NUI, Maynooth and took part in session work across Italy, Sicily and France. She also toured Ireland with the band Shanco. Due to her "husky voice" her sound has been compared to Bonnie Raitt, whom she lists as an influence. Other influences include Linda Rondstat, Keith Richards, Fleetwood Mac, Peter Green and Bob Dylan.

Gráinne's success has led her to play three days on the Acoustic Stage at Glastonbury Festival 2008 and at the Blues on the Bay Festival 2008 in Warrenpoint, Northern Ireland, which has been twice headlined by Van Morrison. She has opened for many major acts including Robben Ford, Dino Baptiste, Shawn Jones and The Yardbirds. Her tracks have also made it on many BBC Radio Ulster playlists including Alan Simpson's Playlist, Late Show with Cherrie as well as the blog of BBC Presenter Stuart Bailie.

Grainne Duffy has also been asked to record Oleta Adams' Get Here if you Can for the BBC in George Martin's renowned Air Studios in London. Her debut album Out of the Dark was recorded with Ronnie O'Flynn who also plays with Sharon Shannon, Paul Sherry, Richard Nelson (who played with Van Morrison) and John McCullagh. Grainne has been working with Paul Charles, who has managed Van Morrison, Tom Waits and Loudon Wainwright III, as well as with Imaj Promotions, who have promoted the likes of Steve Earle, John Prine and Jackson Browne in their Irish tour dates.
Ticket Prices
Adults:
£15 ea. in advance
£20 ea. at the gate
19 and Under:*
Free**
* GMF reserves the right to require proof of age for people presenting free tickets.
** Conditions and limits apply.
Concert Sponsors
This concert is generously sponsored by
Mr & Mrs John Hoerner